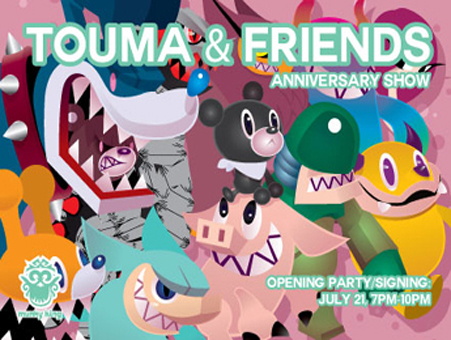 フィギアデザイナーのTOUMAさんの展覧会に、
TOUMAさんの作品にインスパイアされた友人が共に作品を展示するEXHIBITIONが
明日からロスでスタートです。
メンバーは早々たる作家陣、,,知らなかった
実は、いろいろスケジュールがタイトな時期だったので、TOUMAさんご本人にも
参加出来そうも無いです、、、とお伝えしていたものの
MY LITTLE PONYでいろいろ素材について教えていただいたご恩を返したい
と、急遽「自分のBEAR像をもしおもちゃにするなら」
をデーター入稿で参加したら、、、
なんと!大好きな永井豪先生とのコラボ作品まで参加してた!!
このブログ書くための検索で、ほんとに今知った!
感動ー2倍~(^^)
TOUMAさんおめでとうございまーす。
私は大好きな二本足打法の、ツキノワグマを作成したよ
TOUMA & FRIENDS Exhibition
@ Munky King
July 21 -AUGUST 21
Japanese character-designer TOUMA sends word of his upcoming solo show in the United States, titled: TOUMA & FRIENDS happening at Munky King at LA Melrose - launching July 21st and exhibiting thru August 12th, 2012. This is his first US exhibition since 2009, and as well had celebrated his 10 year anniversary in 2011, and this will see him expanding his work field ~ so this will be a treat!
Other artists who will be exhibiting their art works inspired by TOUMA characters include: Aguru Mukai / Bwana Spoons / Christopher Mitchell / CHIKUWAEMIL / TIm Tsui / Mori Chack / David Horvath (Ugledolls) / Nathan Hamill / Emilio Garcia / Frank Kozik / Jesse Hernandez / Kaijin / Kenny Wong / Luke Chueh / DEVILROBOTS / Mark Nagata / Satoshi Yoshioka / Scott Tolleson / Tristan Eaton / and more…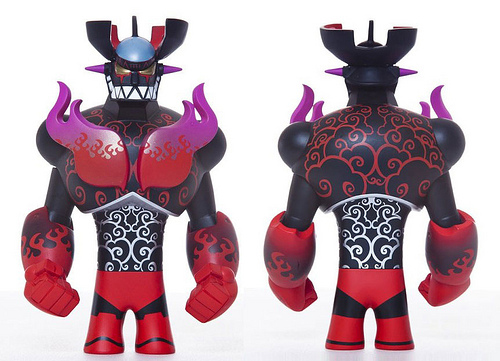 POWER MAZINGER-Z (Dark Version) by GO NAGAI x TOUMA x PHALANX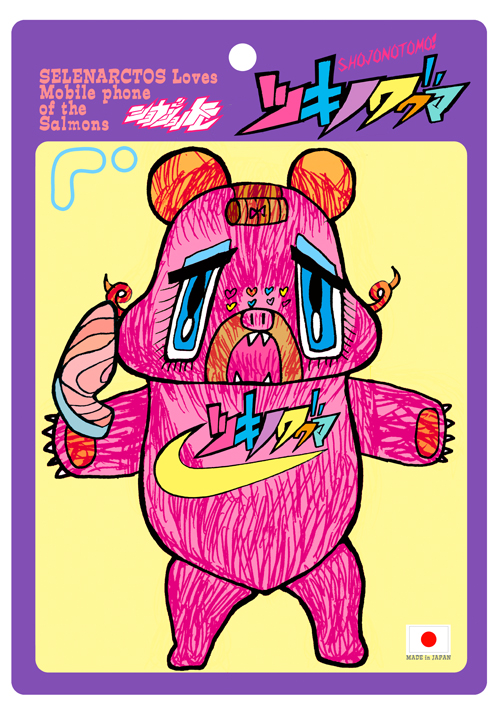 TSUKINOWAGUMA(CELENARCTOS)
SHE HAS CHEST.IT LIKE MOON.
SHE HOLD A SARMON MOBILE PHONE.
月の輪グマの胸の「月」は、実は引き出しである!
そしてその引き出しのデザインは色々着せ替え可能なのである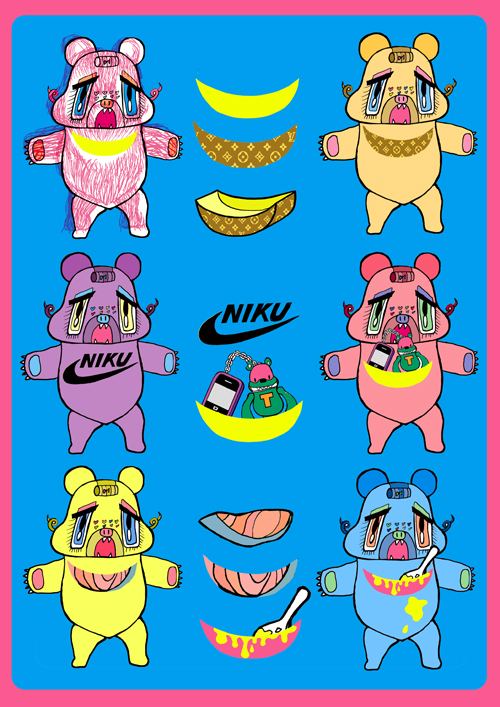 6TYPE CHEST.
1:SYMPLE IS BEST(YELLOW MONN)
2:FOR HIGH BRAND MANIAC(美豚PATTERN)
3:NIKU
4:MOBILE PHONE AND TOUMA'S BEAR
5:SALMON
6:HONY AND SPOON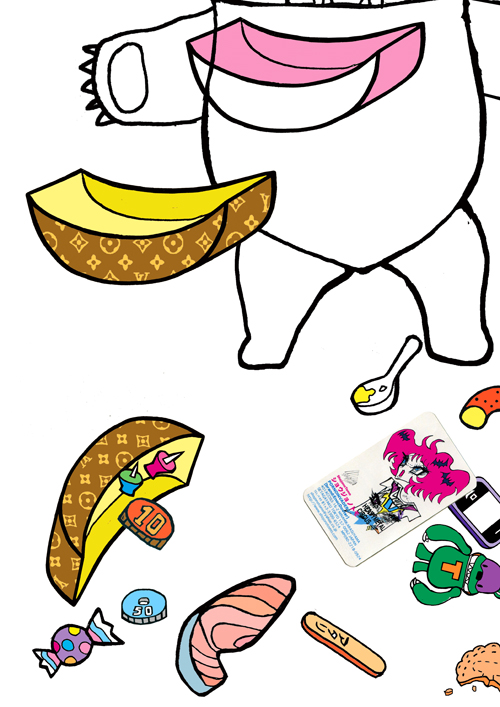 ルイ美豚のタンスからこぼれちった
SLOW MOTIONで
引き出しの中には、大好きなシャケ、
画鋲、アイスクリームのあたり棒、、食べかけのおやつ、、名刺、、、
全部モデルは自分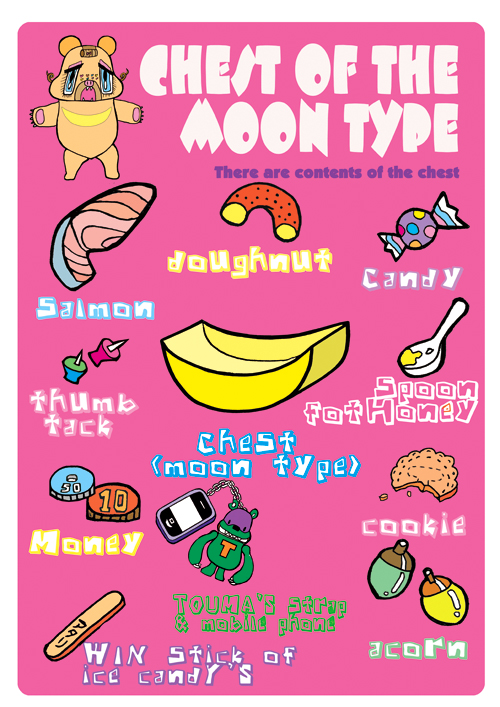 WHAT SHE HAS IN THE CHEST?
このアイデアを考えてる最中、T-SHIRT屋さんバンビのユーストリームTVの収録があり
ちょうど、おもちゃのデザイナー&世界のメルヘンアーティストである
タケヤマノリヤさんと、キャラクターデザイナーのハリケンくんとで
キャラクターの作り方、、、を語る回があり、
熊のラフに赤ペン入れてもらった(^^)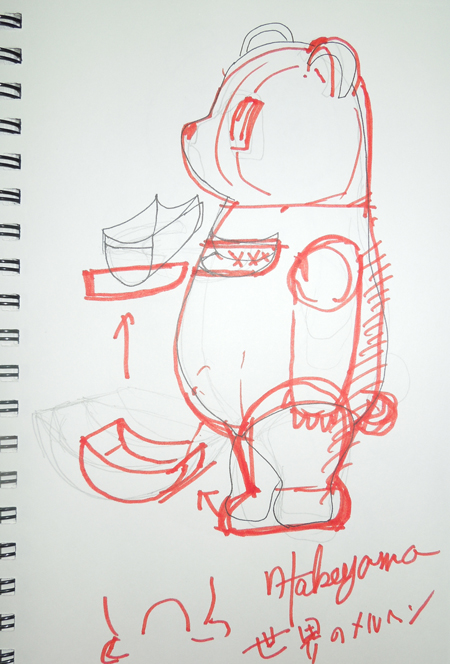 やはり2Dでなく3Dの目で考え作画するんだね。
勉強になりました~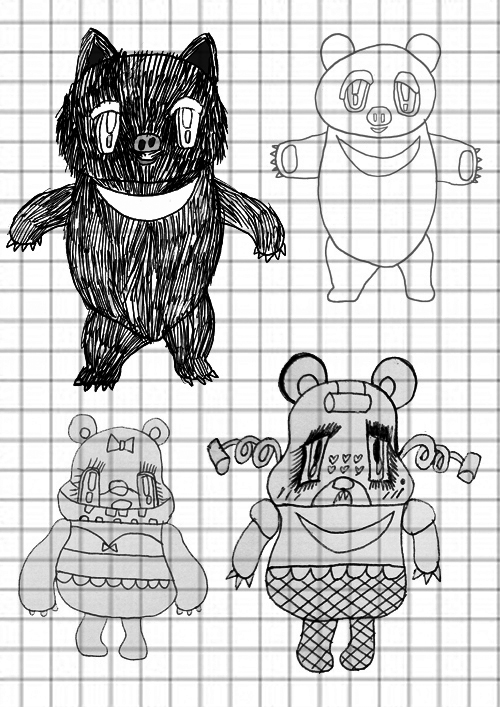 熊に見える事を考えなくしたら、どんどん生まれてきた子達
一番最初の子は黒い毛もーもーの子だよ。
子供の頃塗り絵が苦手だった私。
やっぱりおもちゃのCUSTOMするより、1から形を作れる方が楽しいね~
関連記事

TOUMA&FREIENDS EXHIBITION in LA(MUNKY KING)7月21~♪