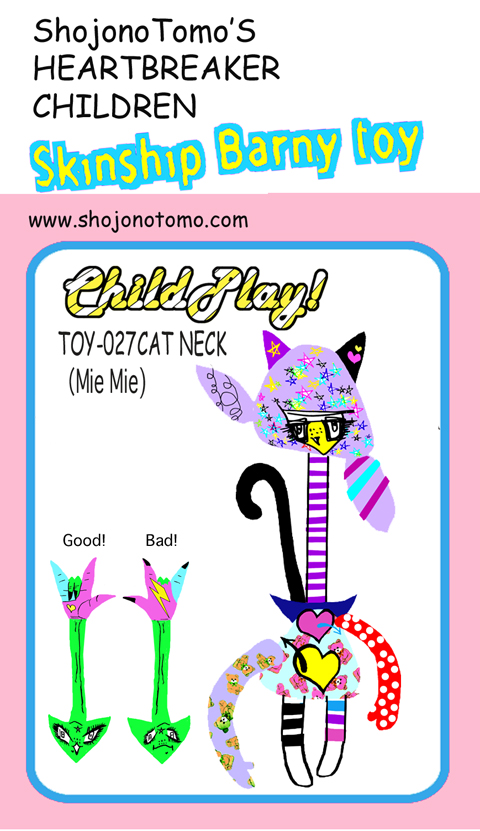 黒猫のcat foodをつまみぐいした日から
首や手足が、猫のように伸び縮みするようになってしまった女の子。
「魔女ネコのために3年間働いたなら、魔法をといて元の姿に戻してあげる」
その任務とは、ネコを使って悪事を働いているワル魔女にお仕置きをすること。
ネコのウンチをすくうと悪い魔法か?良い魔法かをウンチ判断する
goodが出たら良し!badが出たらダメ!
魔法のスコップにまたがり
今日も首を長ーくして路地裏を飛びまわる
新人魔女のmie mie(ミーミー)なのです。
★DOLL of Witch Series
Her name mie mie( me me).
WHEN She ate cat food
her neck and hands and feet
became long.it like a cat
Come to stretch .
It is the spell of a bad witch.
me me will act for a witch to
cancel the magic.
She flies in the sky on a scoop
of the magic.
The scoop does fortune-telling
by saving the shit of the cat.
On a scoop of the magic
I lengthen a neck and run
around the back alley
A new face witch.
So I do it.
★ShojonoTomo's goos info desk in english
shop@sweetstreetsla.com
★ShojonoTomo news in english
shojonotomo news
関連記事
今度はハイウエストスカート( Nikki Minaj live on America's Got Talent The Results Nicki Minaj at PEREZ TV!