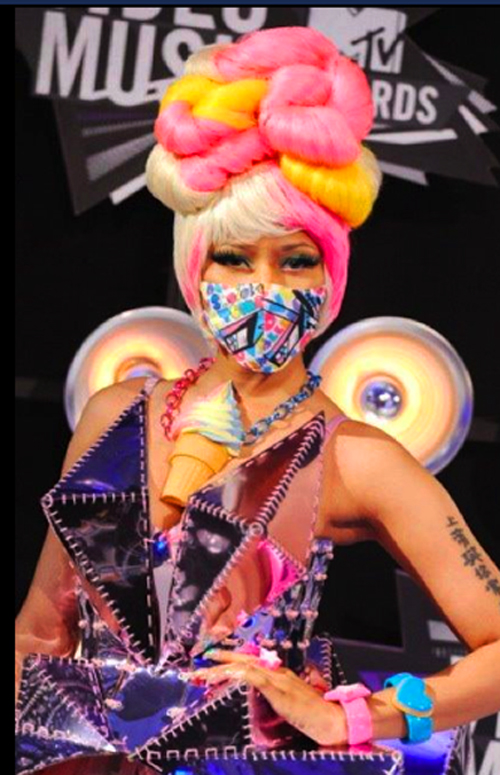 The 28th annual MTV Video Music Awards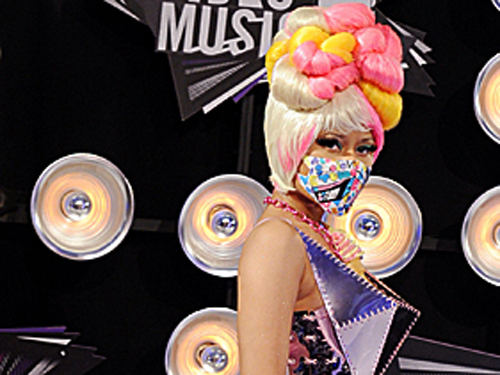 ★NICKI WEAR THANDER EYE MASK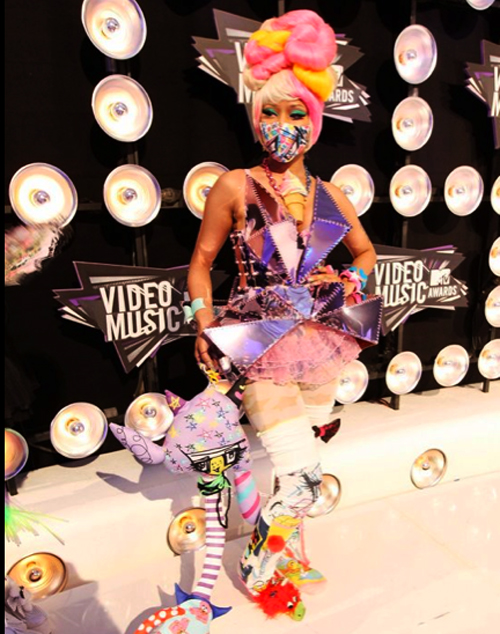 ★NICKI MINAJ AT BACK STAGE IN MTV
SHE HOLD A DOLL(LON NECK WITHCHES ME ME)
MARRY ME SOCKS
LONG LEGWOMERRT(HONEY MOON Syndrome)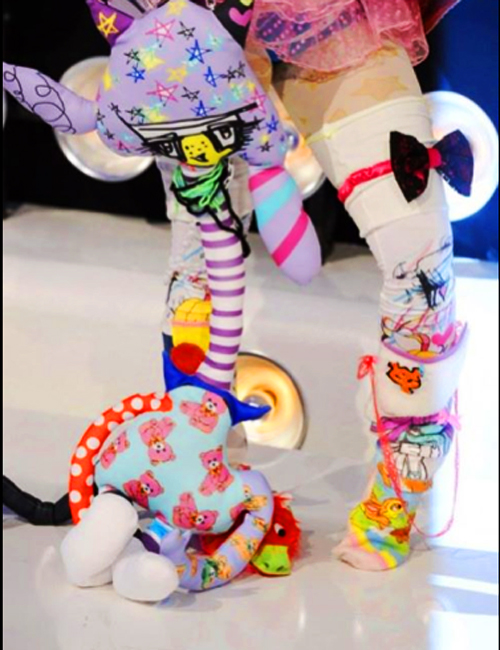 NICKI IN MTV
Congratulations!
"Best Hip Hop Video"
The 28th annual MTV Video Music Awards
日本では8/29NICKI MINAJさんが
大好きなMTVに出演する時に又、私の衣装を着たいとの連絡を貰ったものの
またもや緊急!
そこで、最近作った一点モノから過去作品を見せた所
しりぬぐい男爵を着るみたい
と連絡が!
親の借金を尻拭いした男爵のストーリーを服にした
そのまんまお尻にモップがついた服。
でも彼女の激しい踊りには肩のモップが定着しないのでは?
と気をもみつつ、、東京で徹夜
もう限界と寝て起きたらTWITTERには
違うコーディネートが!
なぜか?東急ハンズで三原純子さんも買ってくださった
マスクに、マリーミーソックス、手には首長魔女のME MEちゃんが抱かれてた
さすがNICKI!レディーガガさんや、並みいるセレブの中で
この手作り感満載のアイテムを着こなしてくれました。
彼女のラッパー魂?なのか?
私はHIP HOP系カルチャーのジャージにでっかいフェイクなブランドアクセサリーを
付けるセンスが大好き。
庶民が、お金持ちのジュエリーじゃらじゃらを皮肉ってオリジナルのカルチャーを作った。
ってそれを意識して作ったわけではないけど、私が洋服の媒体で創作するように成ったときの
ベースを言いたかった。
彼女なら、すごいゴーカな衣装なんていくらでも集まるだろうに。
NICKIが着てくれているこれらは、ほとんど2010年に開催した
「くつしたの婚活」の時の作品。
穴の開いた、又はどっかにいってしまった靴下が
新しいパートナーを捜すというイベント。
だから彼女が履いているソックス(ルームスリッパってかかれてた笑)
は片方ずつが違っていて、右足が左足に求婚するその名も『MARRYME SOCKS]
私のコンセプチャルアートが、洋服という媒体で表現して
それをこういう方が着てくれる。
こんな光栄なことはないです。
てどれだけNICKIに私のテーマが伝わっているか?だけど
彼女のモノ選びにはそんなカルチャーやARTが活かされているって思ってます。
次回ご縁あれば、そのときは彼女のために彼女のサイズで作りたいな。
マリーミーソックスずれてるもん(ごめんなさい~)
当時一緒にミシンワークしてくれた MEMEMACHINE 及川サン嬉しいね(^^)
そしてSWEET STREET のCARO、YOSHITAKAさん、ビコウシャの皆様
毎回ありがとうございます。
そしてNICKI I LOVE YOU!
nickiがバックステージで衣装についてのインタビューを受け
ショウジョノトモの名を言ってくれてます。
しょろのとも~に聞こえるけど。。。
Minaj descended the VMA Pre-Show escalator channeling her Harajuku Barbie alter ego in an outfit that could only be described as eclectic. Minaj layered a shiny, structural purple bodice with a frothy tutu under-pinning. Accessories ran the gamut from a chunky, soft-serve ice cream necklace to layers of cartoon-covered socks, leg warmers and slippers. She topped off the look with a Japanese face mask and a mop of blond, red, yellow and orange locks.
When asked by MTV News' James Montgomery which of her three nominations ― Best Female, Best Hip-Hop or Best Collaboration ― she wanted to win the most, the answer was clear for Minaj. "I'd like to win Best Hip-Hop Video," she said. "Yeah, but they're all important. And I'd be honored to win either. I'm honored just to be nominated."
Minaj then introduced a first look at her "Fly" music video collaboration with Rihanna. In the video, Minaj sports two comparatively more demure looks: the first, a gray gown with a pink wig; and the second, a leopard-printed confection.
As for her duties at the main show, Minaj, who helped present the prize for Best Pop Video, also confirmed she'd be doing something with MTV's own crazy cartoon characters Beavis and Butt-head, but she wouldn't reveal much beyond that. "Oh my god," she said. "All I know is that it's going to be ass-tacular."
The 28th annual MTV Video Music Awards are live now!
関連記事

Nicki Minaj wear shojonoTomo's MASK,TOY SOCKS IN MTV