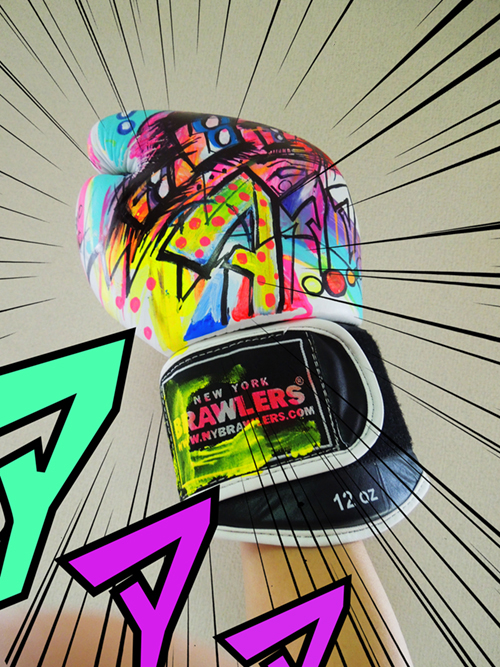 ★Beautiful beasts!
戦う少女は、美しい獣。。。
このペイントカスタムしたボクシンググローブは
Toy Art Gallery と Mylos Lovesによる
『FIGHT FOR YOUR RIGHT』
の展覧会のために制作しました。
数時間前にロサンジェルスに旅だっていきました〜
5/4の開催に間に合うか?不安。。。><
★この展覧会ではボクシンググローブをカスタムして
売上げの20%とギャラリーでのセールスを青少年の育成を目的とする団体である
Hoods to Woods Foundationへ募金します。
★参加者Angry Woebots、Cope2、Frank Kozik、Kano、Shane Jessup、
Skinner、Spanky Stokesなど。
★The Hoods to Woods Foundation は都市部で生活する
11歳から17歳の子供たちにアウトドアで遊ぶ喜びを知ってもらうために設立された団体です。
主な活動としてスノーボードやインドアクライミングをはじめとして
キャンプやハイキングなどのアクティビティの機会を子供たちに提供しています。
自己表現と自我の発育を目的として、参加した子供たちには
インターネットなどのメディアツールを通じて体験を他者と共有してもらっています。
5/4(sat)
Toy Art Gallery/DV Warehouse Attn. Fight For Your Right,
747 Seward Street, Los Angeles, CA 90038 USA
Toy Art Gallery
Foundation
Hoods to Woods
SHOJONOTOMO MADE custom boxing.
TITLE IS Beautiful beasts!
glovesToy Art Gallery & Mylos Loves invite you to participate in FIGHT FOR
YOUR RIGHT, a charity art exhibition of hand painted or custom boxing
gloves benefitting the Hoods to Woods Foundation. 20% of proceeds from
artwork and gallery sales will be donated from each pair of gloves by
artists Angry Woebots, Cope2, Frank Kozik, Kano, Shane Jessup,
Skinner, Spanky Stokes, and many more. FIGHT FOR YOUR RIGHT exhibits
at Toy Art Gallery for one evening on Saturday May 4th, 2013.
The Hoods to Woods Foundation is a organization that promotes
awareness of the outdoors to inner city children ages 11 ? 17 through
year-round activities such as snowboarding, indoor rock climbing,
camping, hiking and more. Using environmental awareness, writing and
the use of new media tools that allow youth to document their outdoor
experience, the program is designed to build confidence and facilitate
individual discovery.
Visit Toy Art Gallery online:
http://www.toyartgallery.com
Visit Hoods to Woods Foundation online:
http://www.hoodstowoodsfoundation.org
★高橋 奈苗選手 オリジナルブーツ完成!
いよいよ明日、両国国技館で
スターダムのプロレスラー「高橋奈苗」さん試合です。
今回は仕事が終わらず行けなくなってしまったけど
私の衣装が、ナナラッカにパワーを授けてくれますように。
(今回いろんなことが重なり、マントは次回までのお預けになりました)
明日予定ないななーという皆様!ぜひ両国国技館へ
STARDOM CHAMPIONS FIESTA2013 〜両国シンデレラ〜
4月29日(月・祝)両国国技館
開始/2:00PM 開場/1:00PM
<主催>株式会社スターダム
<後援>ファイティングTV サムライ
<運営協力>株式会社DDT
<協賛>株式会社エンターブレイン、キングレコード株式会社
<協力>センダイガールズプロレスリング、アイスリボン、WNC、DDT
<TV>CS301チャンネル ファイティングTV サムライにおいて当日の19:00〜24:00まで5時間のニアライブで中継します。
スターダム事務所 03-5858-8384 
4月29日(月・祝)両国国技館